Pingree-Buchanan School District has the following positions open for the 23-24 school year: -FACS/Agriculture/Junior High Teacher (or any combination of the three) -Pre-Kindergarten Teacher -Route and Activity Bus Drivers For more information, check out our website:
https://www.pingree-buchanan.k12.nd.us/page/careers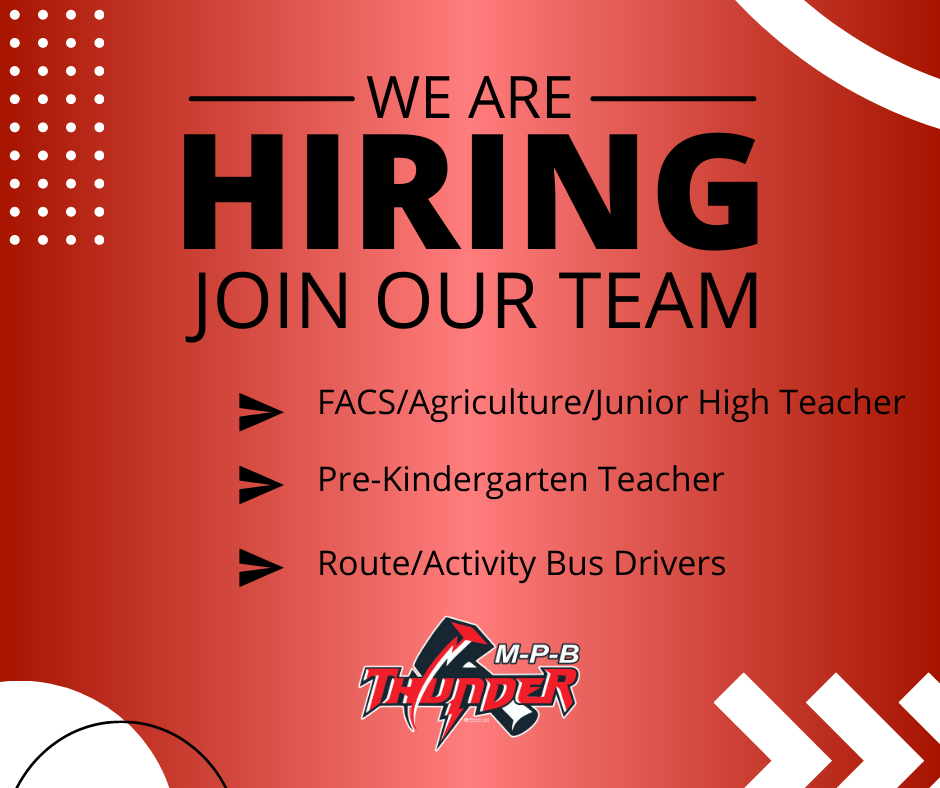 If you wish to purchase a yearbook, the site is BUYTHEYEARBOOK.com or copy/paste this link:
https://buytheyearbook.pictavo.com/PictavoSchool/FindSchool
SCHOOL ID: 711955 You can buy the yearbook online or you can buy one of the 15 yearbooks that the school will pre-order. please contact Darlene at the school if you would like one, 252-5563.

The Stutsman County Fair Sign-Up is Live! Sign up for a time slot using this link:
https://signup.com/go/jLafknS
Thank you all that donate their time in helping out! This has been a great fundraiser for our MPB CO-OP! If you have any questions, please contact Mrs. Neys at 320-2617.

The Pingree Buchanan Booster Club has been asked to man admission gates at the Stutsman County Fair again, with help from the Medina community. This is a huge fundraiser for the school and MPB Co-op teams, and we need as much help as possible. Please check with family members and friends to see if they would help with gate admission. Contact Terrie Neys at 320-2617 with any questions. Our students directly benefit from your help! Attached is a list of time slots available. There will be an online signup link that will begin on June 1 at noon.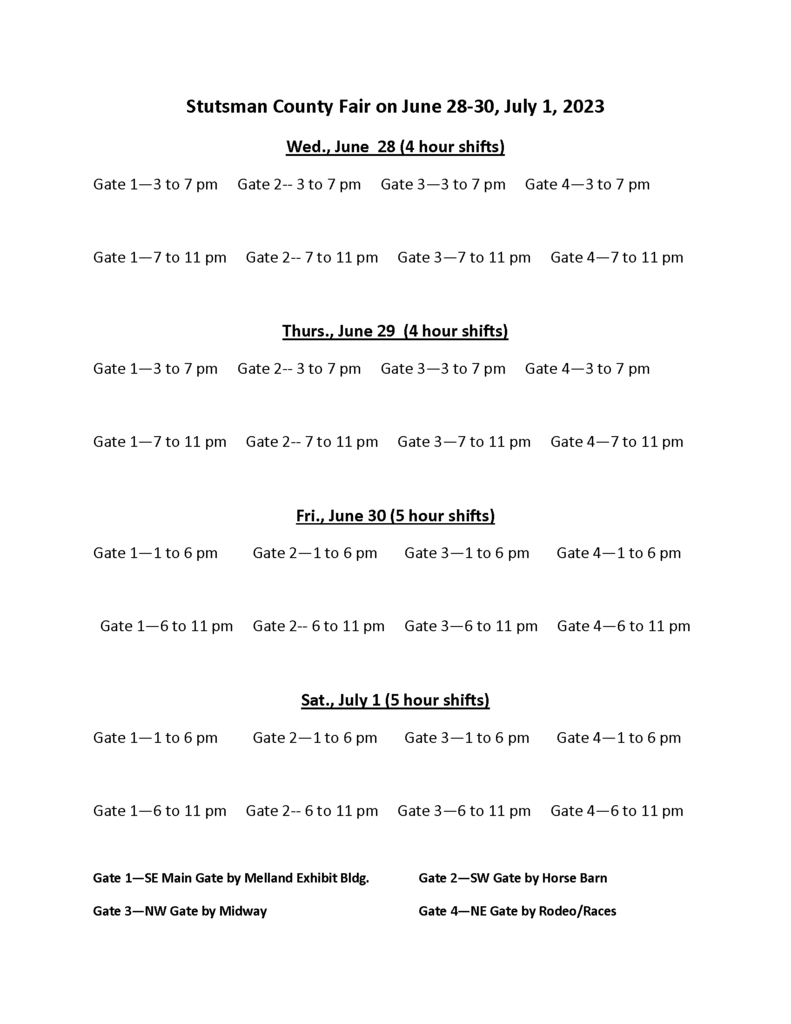 Notice to Parents: You may be eligible to receive P-EBT benefits for your school-aged children this summer. Children who received free or reduced-price lunch through the National School Lunch Program and were attending school at the end of the 22-23 school year. If your children are not currently eligible but might be for the 2023-2024 school year, you are encouraged to complete the P-EBT application and submit a Free/Reduced-Price application by August 25, 2023. Contact our Business Manager, Kylee Ingebretson at 701-252-5563 for an application form. This year parents/guardians must complete an application to receive Summer P-EBT. The application can be completed online at
https://ndsummerebt.nd.gov/
If you can't complete the application online, you can get a paper application by sending an email to
snap-pebt@nd.gov
or downloading it from our website. For more information regarding Summer P-EBT email
snap-pebt@nd.gov
or call 701-328-2732.

Notice of Election: Thursday, June 13, 2023 There are two items on the ballot: two school board members are running for reelection and the question of publication of school board meeting minutes in the Jamestown Sun which costs around $1,500 per year. We always publish the minutes in the school newsletter and post them on our website. This vote asks if you also want them to be published in the Jamestown Sun. A YES vote means you want the minutes published in the Jamestown Sun and a NO vote means you are content with having the minutes in the newsletter and on our website. Pingree-Buchanan School Board Election Tuesday, June 13, 2023 9:00am-7:00pm Pingree-Buchanan Elementary School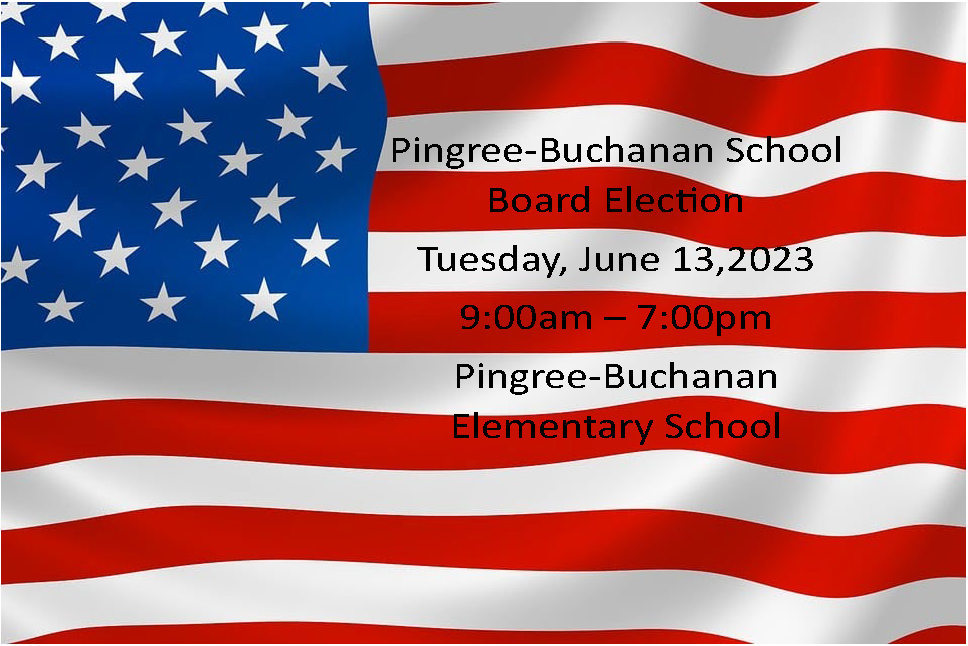 The commencement ceremony for the Class of 2023 will be held today at 2:00pm in the high school gymnasium. The event will be live-streamed on the school's Facebook page for those unable to attend. Congratulations Class of 2023! 🎓❤️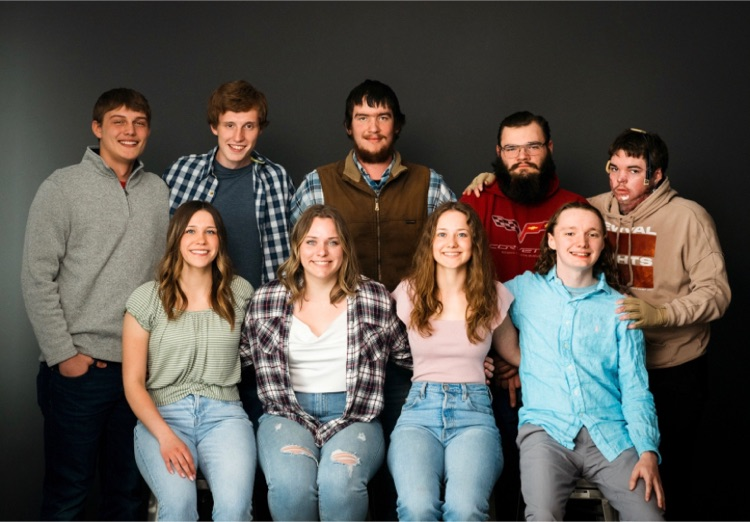 The yearbook is in need of any softball pictures. We are also looking for some music pictures to include in the yearbook.

Elementary News May 15, 2023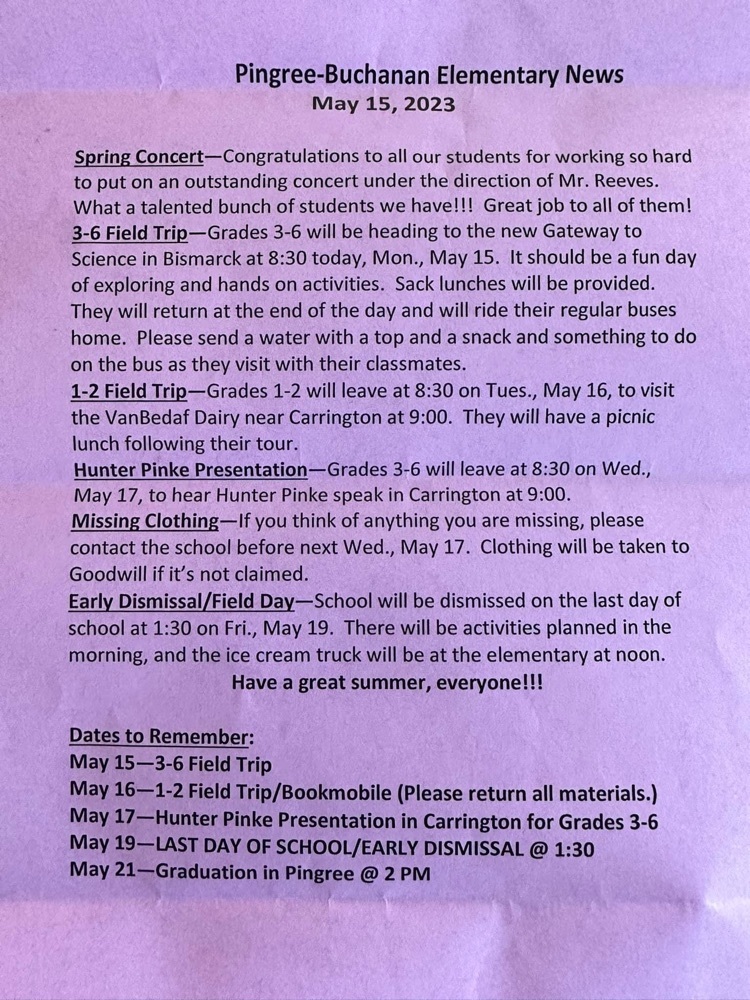 Due to field trips and final testing schedules, there will be no Zero Hour classes this week. There will be only one bus leaving Jamestown at 7:50am.

REMINDER: Our last day of school this year will be Friday, May 19. We will have an early dismissal for high school students at 1:10pm and elementary students at 1:30pm. The Jamestown bus should get to town around 1:45pm. Have a great summer!!

Driver's Education will not be offered through Medina School this year. PBHS students will need to make arrangements to take Driver's Ed classes with a private instructor individually.
Today's baseball games in Medina have been cancelled. The track meet in Jamestown is rescheduled for tomorrow.

The MPB Awards Night will be held on Tuesday, May 16 in the Pingree-Buchanan High School gymnasium, with a meal starting at 6:00pm and awards ceremony starting at 7:00pm.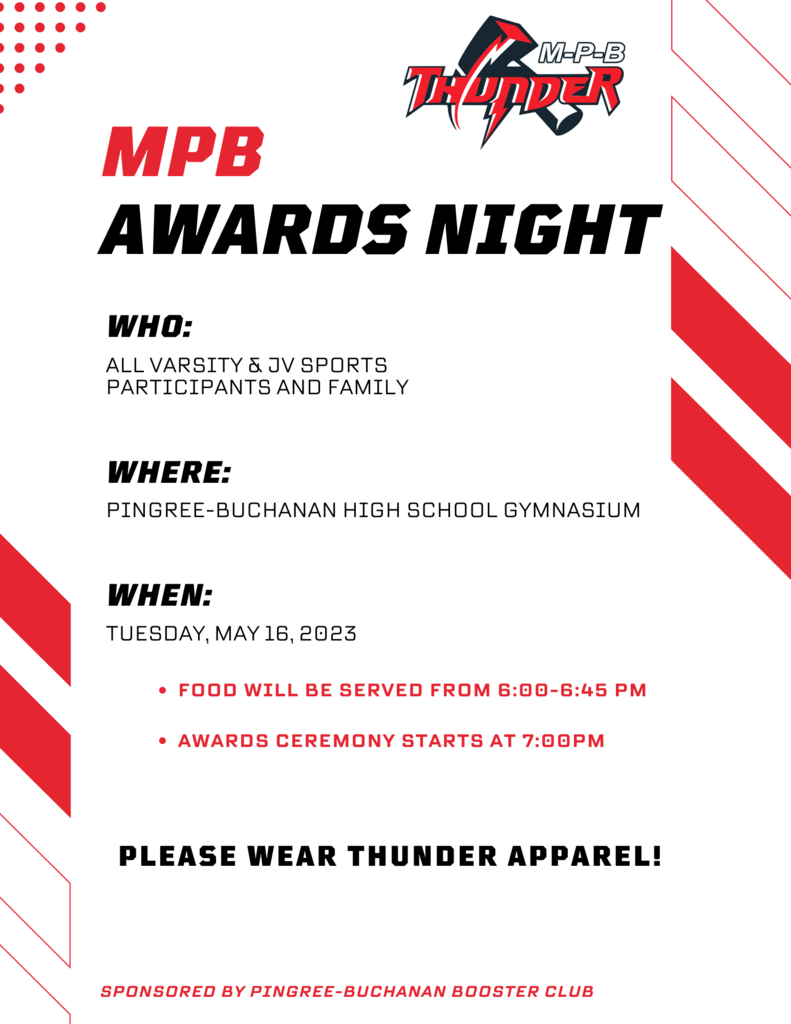 Please feel free to park in the grassy area north of the old school building for tonight's concert. The preshow starts at 6:05, and the concert begins at 6:30 in Buchanan.

Updated: Elementary News May 8, 2023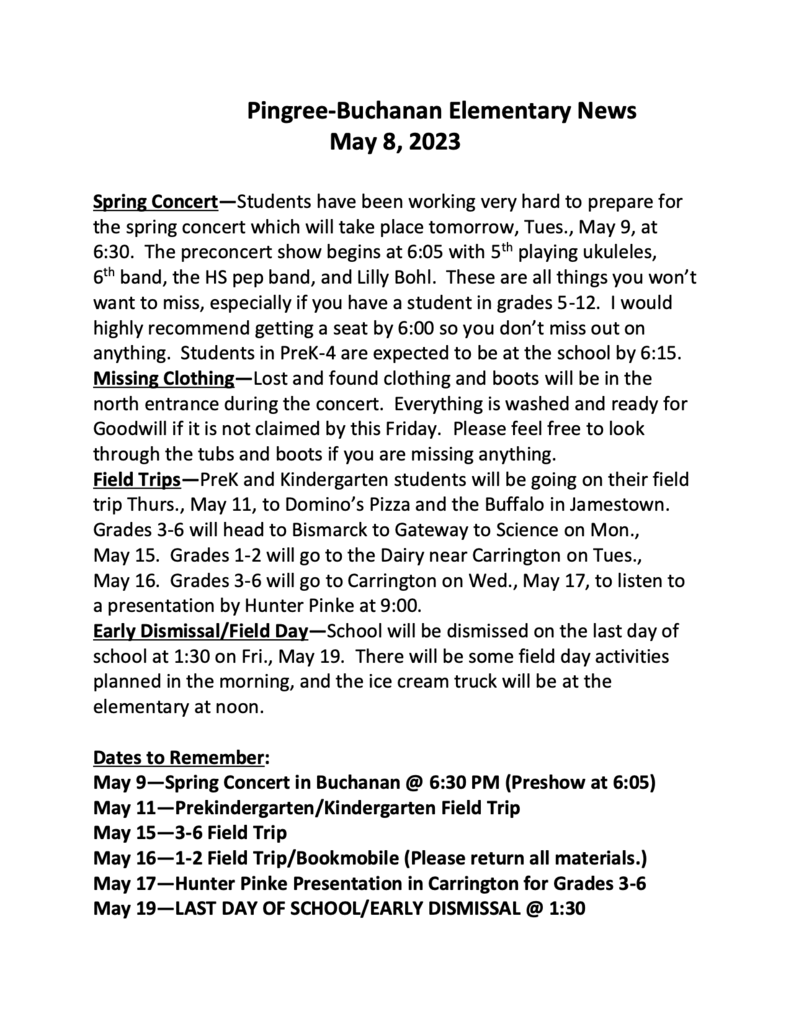 The Spring Music Concert will be live-streamed on the school's Facebook page, starting with the pre-concert music at 6:05pm.

Elementary News May 8, 2023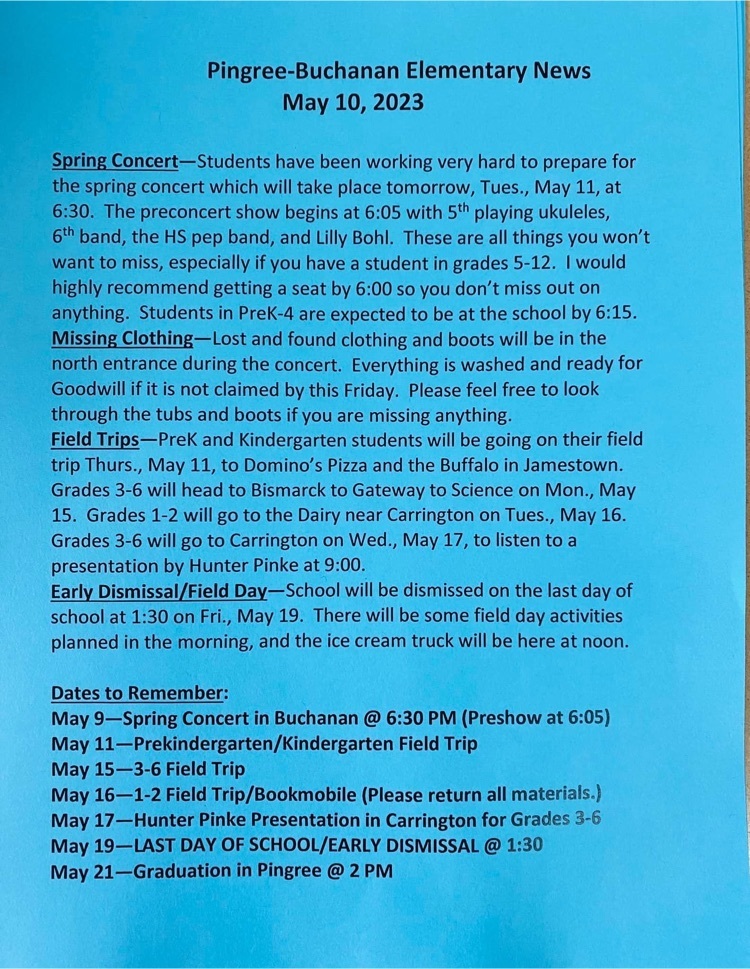 Happy Teacher Appreciation Week to our wonderful staff! We appreciate all you do! <3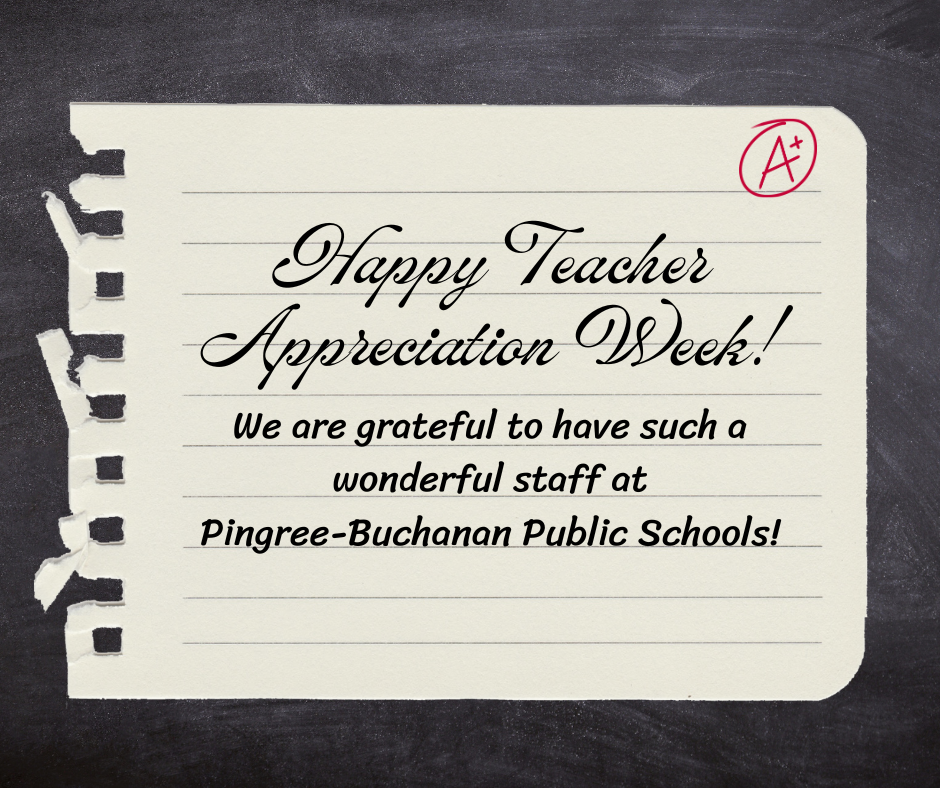 The 11th and 12th grades took a field trip to the Fargo Air Museum for Vietnam Week. Some veterans of the war taught them about their reality during that era. A great day of learning!